Stamping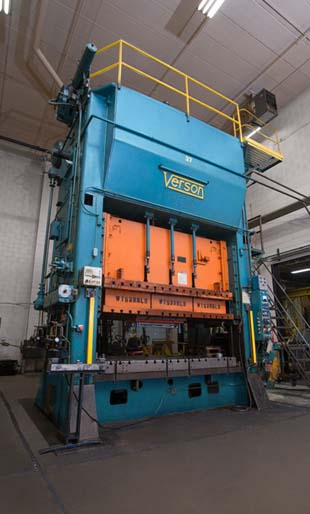 Eckmann Custom Products has decades of experience in tooling design, tooling construction, and manufacturing of metal stamping. From simple blanking dies to complex progressive dies, Eckmann can design and build to your specifications. Our experience allows us to perform deep-drawn stampings, including stainless steel. We have high-speed presses for small high-volume parts, a 500-ton press for large parts, and everything in between. Contact us today for quality metal stamping Racine, WI loves.
Eckmann Custom Products engineers can aid in your design process to help minimize costs, to make dies that are easy to maintain, and produce quality parts. Please contact our engineering staff early in your design, to help reduce your development and production costs through our metal stamping Racine, WI businesses rely on.
40 presses
40 ton to 500 ton
Bed size up to 60" x 108" 

Internal tool room, Reduces development and maintenance costs for the customer.

Rapid prototyping and short-run capabilities

Secondary operations include welding, deburring, drilling, PEM installation, orbital riveting, tapping, and sub-assembly.
Custom Spin Form Pulleys
The manufacture of single and multi "V" pulleys from a spinning process offers several technical and commercial advantages. Many pulley forms and styles can be manufactured at a considerable material cost reduction and weight advantages from a simple pre-form or a deep-drawn shell. 
Our advanced and flexible production facilities enable us to handle many types of pulley orders. Our optimal manufacturing process results in quality, cost-effective components. To complement this latest spinning technology, we offer a wide range of presses to manufacture pre-form blanks of various shapes and sizes.