About Us
Eckmann Custom Products, Racine, Wisconsin, was founded in 1947 and was acquired by A & E Incorporated in 1990, a family-owned business.
Located in a modern 58,000 square foot facility, Eckmann uses state-of-the-art machinery and robotics to ensure manufacturing excellence. Eckmann Custom Products provides complete metal stamping, metal fabrication, tooling manufacturing, and engineering.
We appreciate your interest in Eckmann and invite you to explore our Corporate Family of Companies further.
Our Principles
At Eckmann, we recognize the importance of your project to your overall business. We treat your part with the care we would treat our own. We provide dedicated technical and customer service staff to serve your specific needs from concept to delivery of production parts.
Industries Served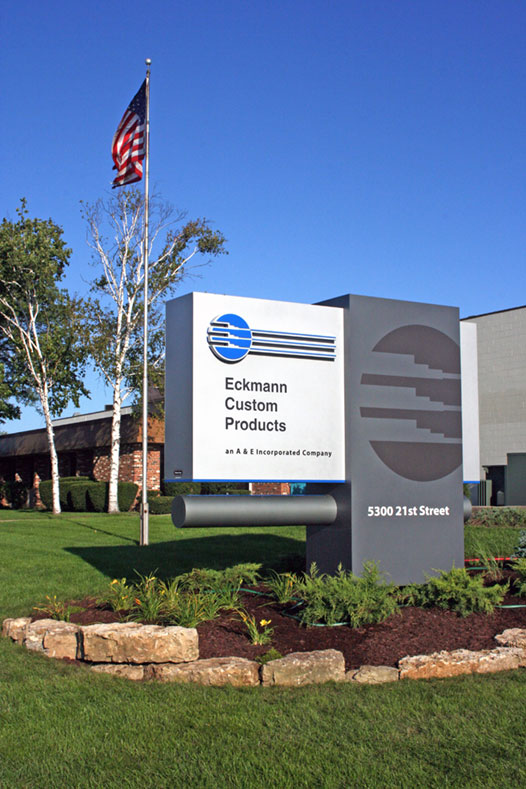 Agriculture
Automotive
Building Materials
Commercial Appliances
Construction
Consumer Appliances
Consumer Goods
Dental
Energy
Firearms
Food Processing
Generator
Heat Transfer
Industrial Equipment
Lawn and Garden
Lighting
Marine
Material Handling
Medical
Military
Mining Equipment
Oil and Gas
Orthopedics
Point of Purchase
Power Transmission
Rail Road
Recreational
RV 
Security
Specialty Hand Tools
Telecommunication Equipment
Water Filtration
World Class Provider
Eckmann is a Wisconsin company that competitively provides rapid prototyping for metal stampings, deep drawn stampings, and spin form custom pulleys. We provide superior value when compared to overseas suppliers. Consistent quality with on-time delivery, all at competitive prices, it's our only business.