Quality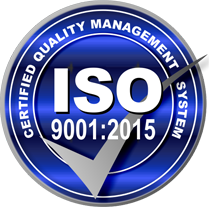 Eckmann is an ISO 9001:2015 Registered Company. Quality is the basis of our business philosophy. Controlling the manufacturing process begins with the identification of essential control characteristics and dimensions. Our quality assurance department works closely with you, the customer, establishing a partnership to ensure a high level of quality.
Equipment
High standards repeatedly proven using sophisticated measuring tools, including the Coordinate Measuring Machine (CMM). Operators are supplied with the proper inspection and test equipment to monitor and document quality throughout production to ensure they meet or exceed expectations. All new tooling goes through a full PPAP (Production Part Approval Process) which is submitted to the customer for approval.
Quality Material
To do your best work, you must start with the best material. It is a simple concept, and we take it seriously. As a prominent metal stamping manufacturer, our large volume helps us negotiate the best possible raw material prices for our customers. Our purchasing department, along with our quality assurance people, maintains a Quality and Delivery Rating system of all our outside suppliers. Only the highest-rated suppliers are used. Supplier's performance is updated monthly, not quarterly or annually like some companies.
If you have any questions about our quality assurance, please email or call us at 262-240-6044.